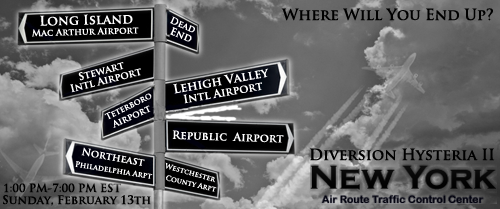 Diversion Hysteria II!
Another blizzard is heading for ZNY and it's going to shut down the major airports!

Don't worry we won't keep you on the tarmac for three hours, we'll just divert you to one of our non-impacted airports - somewhere you weren't planning to go! All you have to do is file a flight plan to one of our major airports (KPHL, KJFK, KLGA, or KEWR) and we'll take care of the rest. If you don't like the element of surprise, let us know where you want to go by filing an alternate airport of your choice. We suggest KISP, KSWF, KABE, KHPN, KFRG, KPNE, or KTEB. Have your heart set on landing at one of the major airports? Do not fear, we will call out the plows just for you!

Sunday, Feburary 13th 2011
1:00-7:00 PM EST
(1800-0000z +1)

We invite everyone on VATSIM to experience Diversion Hysteria II for themselves. For more information, visit our website at http://www.nyartcc.org/DiversionHysteria.